Did you know that in the US alone, 273,972 plastic bags get thrown into the trash every day? And all it takes is one choice to ensure yours isn't one of them.
What if you could do something good for the entire planet every day by simply making a better choice about the products you use to store your food? Our sustainably made products are not only made from ethical materials aimed at eliminating plastic and reducing food waste, but they make it easy to put a little good out there in the world, starting right in your home.
What if you could do something good for the entire planet every day by simply making a better choice about the products you use to store your food? Our sustainably made products are not only made from ethical materials aimed at eliminating plastic and reducing food waste, but they make it easy to put a little good out there in the world, starting right in your home.
Related: Harmonious Design
If you're going to be spending your hard-earned money on something, you're likely expecting it to be high quality. It's plain and simple- high-quality products are made with high-quality materials.
At Pebbly, we believe that materials matter, and we let that show through the quality and durability of our products. We believe that through the use of high-quality materials, like bamboo, organic cotton, borosilicate glass, steel, and more – we can work together to make a more sustainable future for ourselves, our future generations, and for the health of the planet.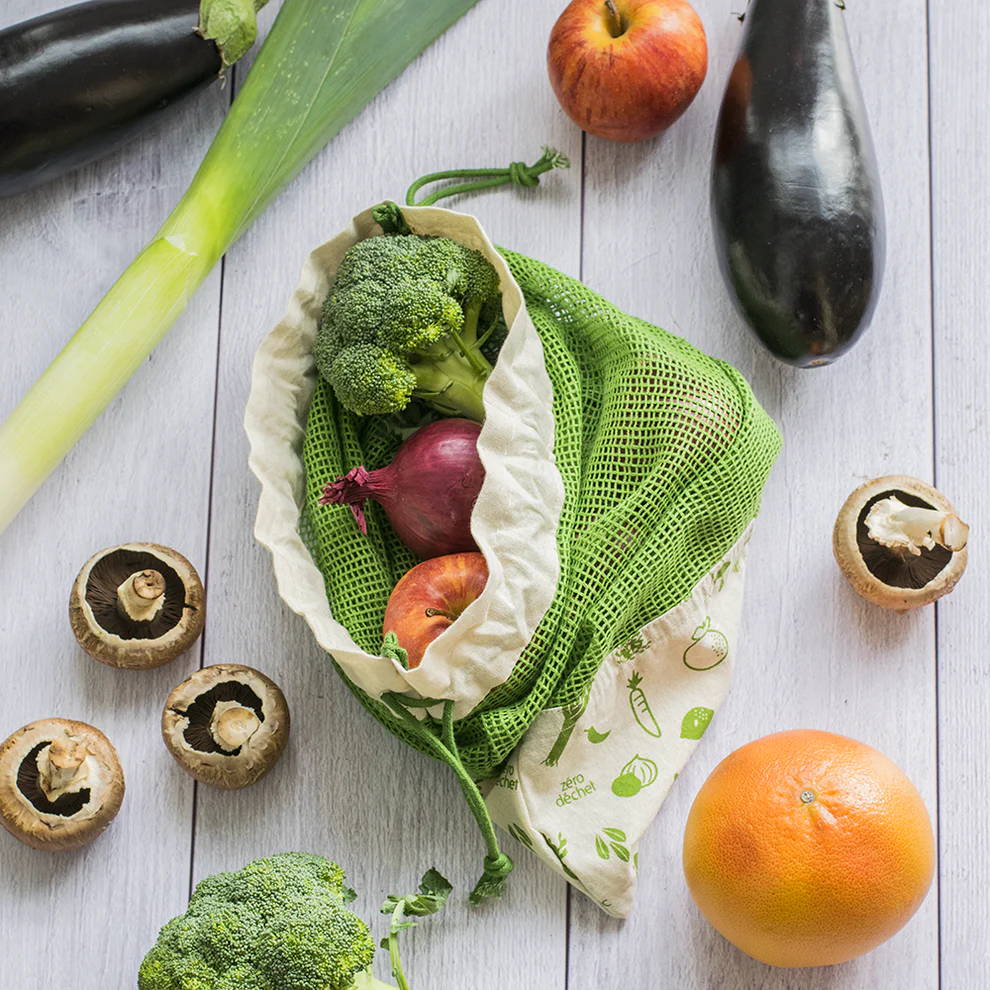 Pebbly offers a variety of products in cotton or jute with cotton lining. Our variety of Pebbly Produce Pouches, bottle carriers, and other Waste Reduction products are made with 100% GOTS Certified Organic Cotton. Cotton is known as one of the dirtiest crops – when it is not grown organically, that means that it is likely sprayed with a variety of synthetic chemicals, pesticides, and herbicides.
Even though we're not eating or ingesting this cotton, these chemicals can still come into contact with our skin and our food and be potentially harmful. By using GOTS Certified Organic Cotton, Pebbly ensures that our cotton products are made of the highest quality of cotton that contain a minimum of 95% organic fibers, which are grown without the use of synthetic pesticides and herbicides.
All Pebbly products that are made from glass, like our stackable glass canisters, are made from borosilicate glass. You may be wondering – glass is glass, what even is borosilicate glass? By definition, borosilicate glass is a type of glass made with silica and boron trioxide as the main glass-forming constituents. It is created by melting boric oxide, silica sand, soda ash,[6] and alumina, all of which combine to form a glass that is highly temperature resistant and won't crack or fracture in response to changes in temperature.
Temperature resistance is crucial when it comes to glass utensils and containers that you plan to use in your kitchen. This means that you can store anything in our stackable glass canisters, hot or cold, without worrying about the glass cracking and making a big mess for you to clean up. This means that you can replace your plastic freezer bags and store various food in the freezer in your stackable glass canisters and help to reduce single-use plastics.
This also means that you can store your hot leftovers safely without worrying about any toxic chemicals leaching into your food, which is always a risk you face with plastic containers. This also means that our stackable glass canisters are totally dishwasher-safe and stain resistant, saving you time and effort in the kitchen.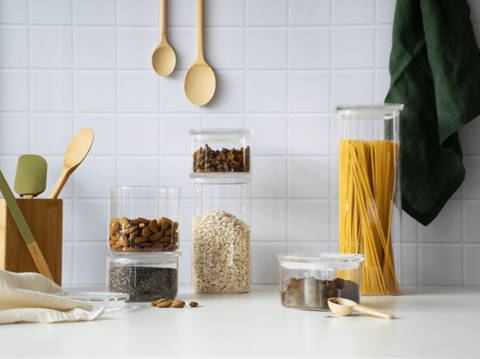 When you think of steel, you might imagine rough metal or industrial materials, but the truth is that steel is a metal that is often used in the kitchen and many other home applications – think stainless steel!
Pebbly's Compost bin with a charcoal filter is made out of steel, with a bamboo handle and lid. The reason we chose to make this out of steel is because this material is 100% recyclable and can be broken down and reused. There are a lot of compost bins on the market, and a vast majority of them are made out of cheap plastic that will eventually start to fall apart over time.
We wanted to ensure that the compost bin you're spending your money on is one that will last you a long time and won't need to be replaced over time. We also wanted it to look nice and high-quality, and let's be honest, a plastic bin doesn't exactly scream "high quality". Not only is it designed to look good in your kitchen and last a long time, but the airtight lid fitted with a charcoal filter helps to keep the smells contained and keep pests like fruit flies out of your kitchen.
Did you know bamboo can re-harvest 33 times faster than trees, release 35% more oxygen and function just as beautifully in your kitchen as wood or plastic? It's a cycle of better that starts with something as simple as the products you use every day.
That is why, at Pebbly, we use these sustainable materials, like bamboo, to make products like our cooking utensils, jar lids, and cutting boards because it is a renewable source and it's able to biodegrade or be composted. Not only that, but compared to its plastic counterpart, it'll last longer and virtually eliminate exposure to microplastics in your kitchen.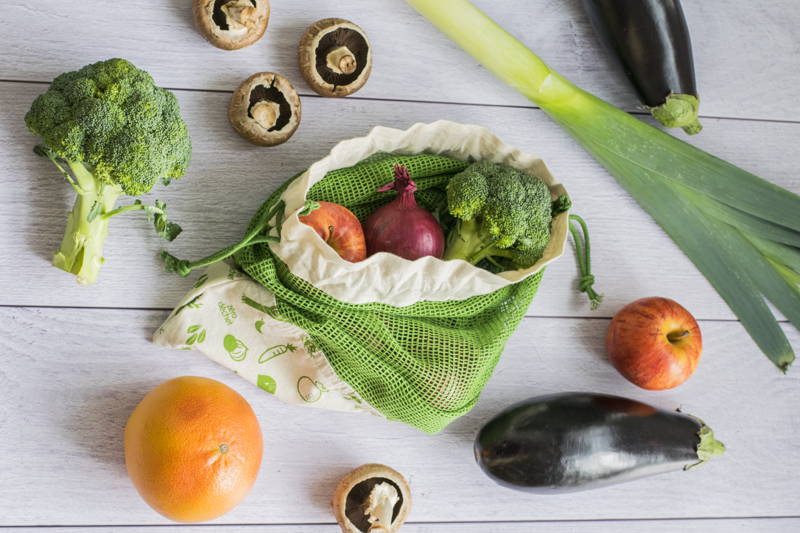 A question that is often asked is, "Where are these products made?" And often, that question is met with vague answers, or it is avoided altogether. But that is not how we roll. We are proud to say that all of our products are designed in France and made in China – and there is a very specific reason for that.
We're all about sustainability, right? Well, a lot of the materials we use, like bamboo, are abundant resources that are found locally in countries like China. So rather than purchasing all the raw materials, transporting them from the countries where they are naturally abundant, and producing them in France where they are designed, it is more environmentally sustainable to produce those products locally.
We also hand-pick the producers that we work with, partnering only with small-sized companies and factories with ethical practices. This is how we ensure quality control and stick to our sustainable practices from design, to production, to our products working their magic in your homes.
Related: #LIVEPEBBLY
High-qualitymaterials for high-quality products

Pebbly is more than a collection of sustainable cooking essentials. It's a belief in inspiring healthy choices that are not only good for us individually but for our entire planet. It's a lifestyle focused on nourishing wellbeing. Crafted from ethical, sustainable materials, our modern, user-friendly products are designed to function well and bring joy to your every day – making them more than just a cutting board, a container, or a compost bin.
So next time you're shopping for a replacement for something, why not replace it with something that is made with high-quality, sustainable materials? While it may be more of an investment up front, high-quality products made with high-quality materials will last much longer, illuminating the need to be replaced – which will actually save you money in the long run!
Besides the long-lasting and money-saving benefits, these little changes that you make now will lead to a reduction in waste, cut down on consumption and contamination of our natural resources like water, and keep discarded items from wasting away in a landfill. Overall, it'll help to make the world a better, more sustainable place for us and future generations!